The correct title of the album is Munich 2016, not München.
A lot of online stores now have the cover art for the album.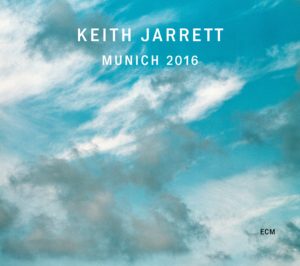 As well as more information about the album and excerpts from the tracks:
A solo concert from Keith Jarrett – recorded at Munich's Philharmonic Hall on July 16, 2016, on the last night of a tour – finds the great improvising pianist at a peak of invention. Creating a spontaneous suite of forms in the moment with the intuitive assurance of a master builder – interspersing touches of the blues and folksong lyricism between pieces of polyrhythmic and harmonic complexity – he delivers one of his very finest performances. An attentive and appreciative audience hangs on every note, every nuance, and is rewarded with some tender encores including a magical version of "It's A Lonesome Old Town"…

Jarrett's solo concert recordings form a unique and continually evolving body of work inside his discography. To trace the line that leads from 1973's Solo Concerts Bremen-Lausanne is to follow an extraordinary musical journey. High points along the road have included The Köln Concert, Sun Bear Concerts – due for vinyl reissue in the coming months -, Concerts (Bregenz München), Paris Concert, Vienna Concert, La Scala, Radiance, The Carnegie Hall Concert, Testament, Creation, A Multitude of Angels, and La Fenice. Munich 2016 brings the story up to date, a document of Jarrett's most recent European performance, held in ECM's hometown. The particular intensity of the Munich performance singles it out as one of the truly outstanding concerts. So, too, the flow of its component parts.

The shape of the individual concerts has been transformed, the large arc of the early concerts, with unbroken improvisations spanning an entire set, giving way to performances made up of discrete, tightly focused spontaneous compositions. Since Jarrett embarked on this quest the number of solo improvisers has multiplied exponentially yet his sense for developing motifs and melodies and uncovering forms in real time remains unparalleled. There is, still, nothing else like a Keith Jarrett solo concert. "Through a series of brilliant solo performances and recordings that demonstrate his utterly spontaneous creativity," the Polar Music Prize committee noted a few years ago, "Keith Jarrett has simultaneously lifted piano improvisation as an art form to new, unimaginable heights."
Thanks to Matthias and Jan for the links.

Join the forum discussion on this post