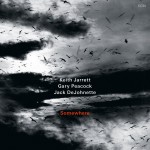 "Somewhere", a recording of the July 11, 2009 concert at the KKL in Lucerne, Switzerland, with Gary Peocock and Jack DeJohnette, will be released on May 1, 2013 (at least in Germany, Japan, and Switzerland).
Track listing:
Deep Space / Solar (15:07)

Stars Fell On Alabama (7:27)
Between The Devil And The Deep Blue Sea (10:02)
Somewhere / Everywhere (19:37)
Tonight (6:49)
I Thought About You (6:29)
Update (April 11, 2013). The release date seems to have been pushed back. "Somewhere" is now listed with a release date of May 14 (Japan), May 24 (Germany), May 27 (UK), and May 28 (US). Thanks to Boris for the information!

Join the forum discussion on this post